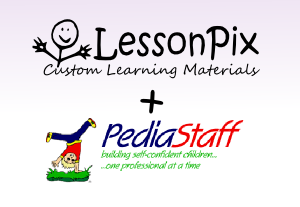 LessonPix Occupational Therapy Guide
Welcome to all our friends at the American Occupational Therapy Association (AOTA) Conference in Indianapolis, IN!
Thank you for visiting our friends at the PediaStaff booth, and we're very happy to provide this guide to using LessonPix in an Occupational Therapy setting!
We hope the guide is helpful, and that you enjoy the free samples. Annual subscriptions to LessonPix.com include unlimited access to all of our materials, 30,000+ symbols, and great language and search tools -- all for just $3/month!
Signup during the conference and use code AOTA_hqlxy6 to save 15%!