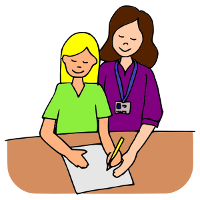 For OTs PTs and SLPs
LessonPix supports therapists both in and out of the classroom setting. With a single LessonPix account you can get:
Visual Schedules
Picture Cards for Labeling and Daily Living
Language tools to target specific articulation issues
Plus over 7000 therapy-appropriate pictures to use in your own Social Stories, etc.
We are proud to provide a powerful tool for occupational and physical therapists, as well as SLPs around the world.
Go-To simple card draw games for use in small group speech/language therapy.

Learn More

Easy adaptations to customize popular board games for a variety of therapy targets.

Learn More

The Sharing center contains a wealth of activities to use for articulation therapy.

Learn More

Lacing Cards are a favorite of both boys and girls in Early Childhood and are a great tool for Fine Motor practice at any age. Make them easily with LessonPix!

Learn More

Fun frog and fly themed activity to promote articulation and phonological awareness practice.

Learn More

Target OT and Speech with Clothespin Literacy Cards!

Learn More

Creating your own adorable prepositional images with the Symbol Builder tool.

Learn More

Therapists can create a custom Memory Game to use for therapy sessions or home practice.

Learn More

Engaging tools for Syllable Awareness, Rhyming and Compound Word practice.

Learn More

Roll and Say games are versatile, unpredictable and great fun!

Learn More

Using Story Grammar Guides from our share site for Braidy The StoryBraid Doll

Learn More

Use themed egg template for a variety of fun Spring articulation and language activities.

Learn More