Word Thief Picture Cards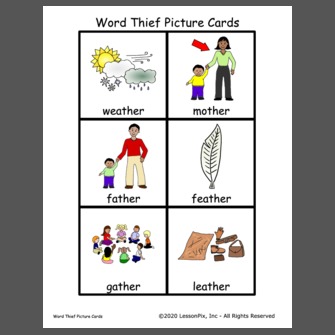 Download PDF
Other Download Formats Beta!
Each page of your material is set as a background image on a PowerPoint slide. This allows you to draw on the page as well as move objects onto the page. Great for Telepractice!
Same as above, but with some of our most common token symbols. Keep the ones you want and delete the rest to make an interactive game for remote play.
Each page of your material is placed on a separate slide as a moveable picture. Rearrange and resize as you see fit.
Note: All PowerPoint formats are tested with Google Slides
14 Pictures Used Load All
Load these pictures into your tray to recreate and customize this material.
Use these picture cards for my game titled "Word Thief". The game is described below. 
Instructions: Each player gets a stack of 4 cards (randomized) each with a voiced /th/ word on it. When it is the first player's turn they steal a card from the other and replace that card with one of their own. The players shuffle their cards and the next player steals a card from the other person and replaces it with one of their own cards. Then the players try to come up with a sentence using as many of their cards as they can. For example, a player would put the cards "they" "weather" and "mother" down on the table. Their sentence they came up with would be "They checked the weather for their mother". Each card used would be two points and any extra word using /th/ would be an extra point (in the example the score would be 8). After 5-10 rounds of this, whoever has the most points wins. After each round, the cards used are added to the bottom of the stack of extra cards and the players pick new cards from the top until they have 5 cards again.