The Mitten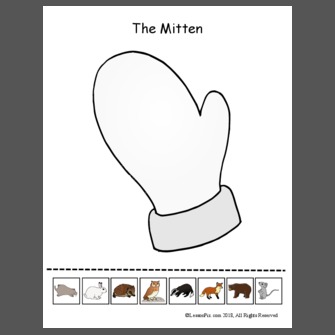 Download PDF
Other Download Formats Beta!
Each page of your material is set as a background image on a PowerPoint slide. This allows you to draw on the page as well as move objects onto the page. Great for Telepractice!
Same as above, but with some of our most common token symbols. Keep the ones you want and delete the rest to make an interactive game for remote play.
Each page of your material is placed on a separate slide as a moveable picture. Rearrange and resize as you see fit.
Note: All PowerPoint formats are tested with Google Slides
Load these pictures into your tray to recreate and customize this material.
A make-and-take page that you can use along with the story, "The Mitten". You can read the story while the children glue the animals on the mitten in the correct order. Or read the story first, then go back and read it again while the children glue the animals on. Name the animals first so the children can learn the names as I left off the text for clarity. Good for targeting listening skills, vocabulary, sequencing, fine motor, and following directions. I cut off the strip of pictures and trim off the extra paper around the picture boxes so little ones only have to snip the boxes apart. Older children may want to cut off the boxes entirely so just the animal pictures are in the mitten. After the mitten is filled with the animals, you could cut the mitten out and hang it on a "clothesline" using mini clothespins (found in craft stores) or hole punch and add a loop of string or yarn to hang on a tree as a bulletin board display. White yarn would be great as it is used in the story.