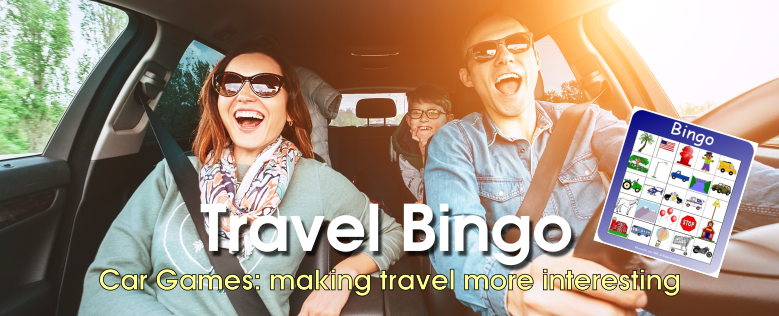 Travel Bingo Games
A popular travel game is the "Travel Bingo". A Travel Bingo Game contains 4-8 bingo cards filled with pictures of road-side items for children to look for and mark on their card. There may be pictures of a stop sign, dog, tree, airport, etc. The bingo cards keep children busy while traveling in the backseat while developing observation and language skills.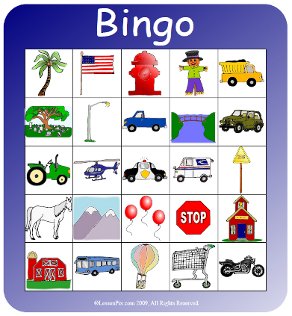 The commercial Travel Bingo Games are for children of all ages and are limited to very generic pictures.
Lessonpix.com allows families to create custom bingo travel games to fit their specific needs.
Using Lessonpix.com, a parent may create a custom travel bingo card for their 3 year old, who desparately wants to be included in their older siblings' game, while maintaining the appropriate age level. The 3 year old may be searching for "cow", "stop sign", or "green car". Meanwhile, the older siblings may search for higher level vocabulary words such as "red farmhouse", "orange tree", "windmill" or "ski lodge".
Lessonpix.com also allows custom travel bingo cards specific for areas of travel. For example, in a mountain area, children may search for "log cabin", "ski lift", or "waterfall". In a costal area, children may find "boat", "palm tree", or "picture of a lobster".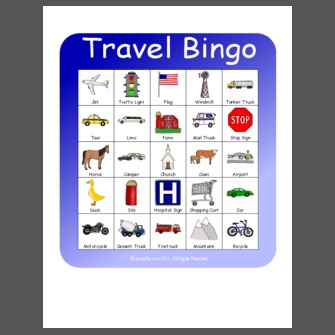 Parents have the ability with a Lessonpix.com account to create these custom printable from any location with internet acces and a printer. Mom may create more cards during a stop at an aunt's home, or while staying in a hotel. The pictures are easily selected from an extensive library of clip art or uploaded photos from your computer.
For more ways to use bingo cards for teaching language skills, check out this article on Bingo Cards in the classroom.