McDonalds® Happy Meal® Symbols Now Available at LessonPix.com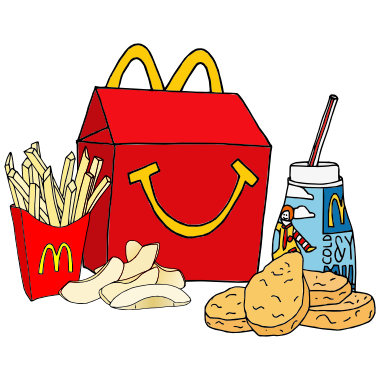 LessonPix.com has added McDonalds® Happy Meal® symbols to its 50,000 image collection. The addition is a significant step to providing broader communication options for those using Alternative and Augmentative Communication (AAC) devices and strategies.
"We reached out to McDonalds® when we kept getting requests from our users for their specific branded products. Children who are non-verbal have the same communication needs, and the same desires," explains Bill Binko, VP and co-founder of LessonPix. "Many children: if they want lunch, they don't ask for a hamburger or 'fast food', they want to go to McDonalds® and they want a Happy Meal®"
While there are many photographs of McNuggets® and fries on the net, that's not enough for AAC users, especially those progressing towards verbal communication. For many children with communication problems, there's a natural progression that needs to be followed for object identification and language development.
Noted speech and language expert Tanya Coyle, S-LP(C) explains: "Children often need to start with physical objects--the apple or ball itself. Once they identify it, they can associate it with a photograph, especially if it's been isolated with a plain background. However, an important step after that is the representative symbol. This is drawn or rendered picture that represents the item without being an exact photograph of the item. Once they master this phase, moving to a written or verbal representation is much easier. This is where we as SLPs need tools like LessonPix and why it's so great to have McDonalds®'s cooperation on this!"
The representative symbols were drawn by a LessonPix artist and approved by McDonalds® public relations and legal teams to ensure they properly represented the products. The entire process was remarkably simple, in part because of the social media tools both companies have embraced. "We just reached out to them on Twitter," explains Binko. "They were very responsive, checked out what we wanted to do, and handled all of the internal overhead that you expect from a multi-national company."
As the co-founder of the #SLPeeps community -- the largest group of SLPs on Twitter -- Coyle isn't surprised, but is very excited about this type of interaction. "There's no way this could have happened just a few years ago. Here we have a small vendor who's very engaged with our community reaching out directly to a massive company who actually responds quickly and positively. It's very encouraging and fun to watch!"
"We're hoping this is just the first of many commercial symbols sets we can add to our library," explains LessonPix's Binko. "McDonalds® has been great, and we'll continue working with them as we get feedback on these pictures. With any luck, other brands will follow their lead in supporting our special needs community."