A Look at What Is New at LessonPix (Nov 2019 - Nov 2020)
LessonPix has grown to become an incredibly powerful tool by continually adding new features, templates, and images based on our members' suggestions. And yet, the insanely low price has remained the same since 2011 intentionally, because we believe that visuals stratgies work and should be affordable for everyone - not just large districts with big budgets.
LessonPix is easy to use for individuals and families, and yet powerful to meet diverse need of large districts. We invest in development each year to keep up with technology and our members' needs, and will continue working to meet the new challenges of 2020.
Here are some of the new additions added over the previous 12 months.

PowerPoint!
Great for distance learning activities, LessonPix now has a PowerPoint Add-in. The image tools now appear on the side of the presentation slides. Learn More on how to use this wonderful new feature.
See Article on How to Download as PowerPoint
PowerPoint Play!
While we are talking Powerpoint... LessonPix added a "Play Tab" with great tools for telepractice and distance learning: spinner, dice, draw cards, and a timer. Open a LessonPix gameboard or make a grid of pictures or words and use these great tools to help make learning fun.
Lessonpix is Mobile!
Fall of 2019, we were proud to introduce our mobile version. You can now create materials for your classroom or therapy sessions from anywhere. Whether waiting at the doctor's office or planning your day while still in bed, you can create visuals anywhere!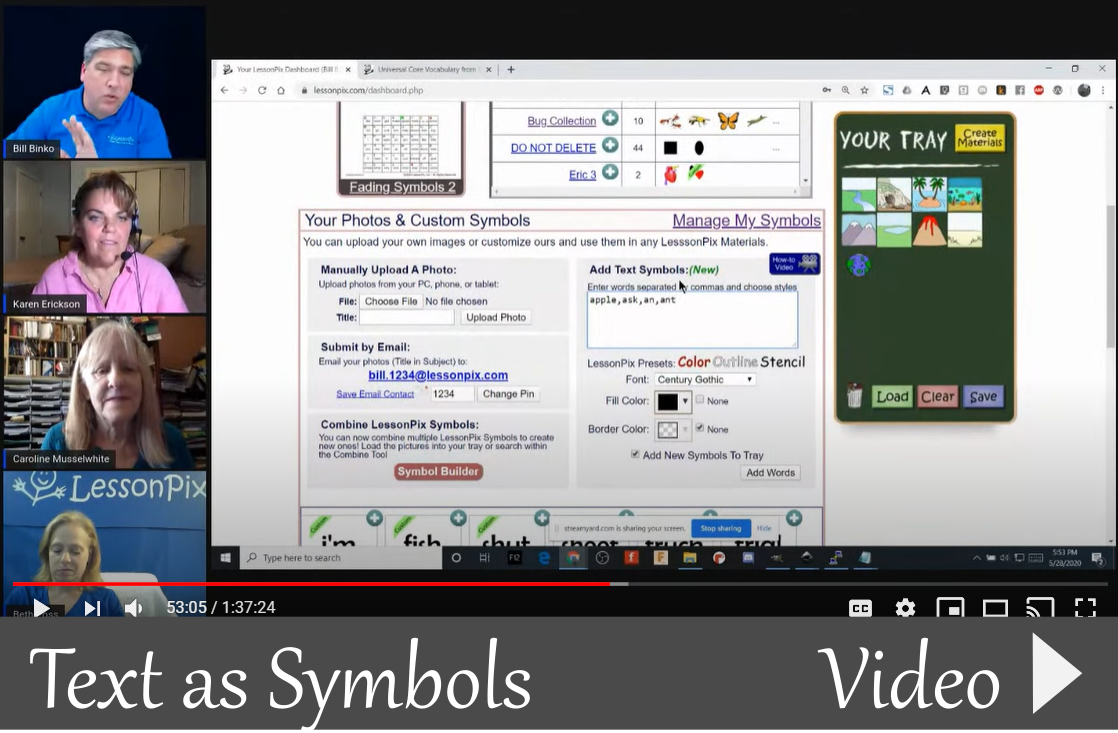 Text as Symbols
Make text as your symbols under "Your LessonPix", in the "Symbol Builder" or in the "SoundFinder". This past year we have improved the ability to create text as symbols. You can choose the color, font, and size easily and make text straight from the SoundFinder tools. This enhancement grew from our partnership with ReadTopia and based on the research of Carolyn Musselwhite and Karen Erickson.
See Article on Text as Symbols
High Contrast Symbols and ReColoring Tools
Many students with low vision require materials presented in high contrast colors and with minimum detail in order to visually process them. LessonPix provides a tool that lets you customize any symbol to high contrast coloring with white outlines and colored backgrounds. This includes our library of Unity Symbols and symbols you upload!
See Article on High Contrast Symbols
Search Own Materials
LessonPix Members asked for a way to search their own materials. You want to be able to find a material you created to print again at a later date. Now you can search for the materials by name, by keyword, or by type of template.
See Article on Searching your Own Materials
Hide Unused Cells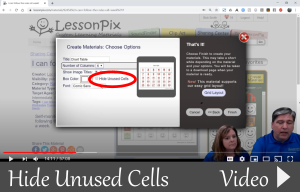 Many materials allow spaces or boxes for symbols, even when you have fewer pictures than boxes. This February, we included a new option in the wizard to allow you to hide unused boxes. For example when you make picture cards, you can choose to hide the grid where there is no symbol. This is a simple addition, but one our members have requested.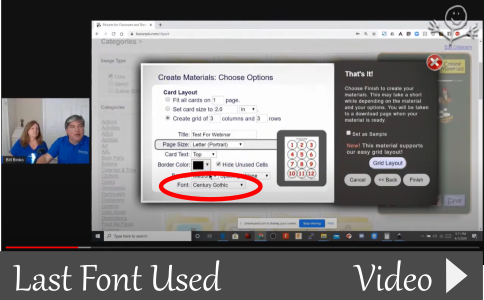 Remember Last Font Used
In the beginning, the defaut font was Comic Sans, primarily because we grew out of early childhood. Since that time, we have added many other font choices, however the default remained Comic Sans. LessonPix Members requested the ability to change this default. The default font is now the font last used. If you prefer all of your materials in Ariel or Century Gothic, you no longer have to change the setting with each material!
See How It Works in this Video Clip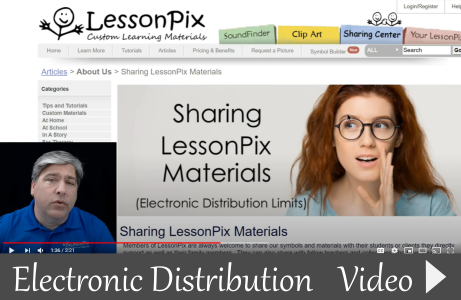 Electronic Distribution Changes in Electronic Distribution Licensing for Remote Learning
To better support our users working remotely, we've adjusted our policy about sharing electronic copies of LessonPix-generated PDF files (and other files with our symbols in them.) This isn't a huge change in policy, but hopefully it will make things a bit easier for our users.
You can find the official policy here: https://lessonpix.com/articles/…/Sharing+LessonPix+Materials
Change Text on Symbols
Our members have asked for a way to change all of the image text in their tray to be the same upper or lowercase for consistancy. When symbols are added to the tray, they may have a capital first letter if it is the title of the image, or lower-case if it is a keyword of the image. After you choose "Create Materials" and select the template, you can now choose a consistant font style in a drop-down (on page two of the materials wizard). The options will convert your text to lower case, UPPERCASE or Title Case.
Sort and Randomize Symbols in Tray
Also on the drop-down (on page two of the materials wizard) you can sort the items in your tray: A-Z, Z-A, or shuffle.

This past year we have added new templates, new styles of templates, and new options in templates.
New Templates
New Styles

Bingo Dauber: Many new styles including superheroes, turtle, snowman, fireworks, Easter, sun, frog, and more.
Books and Stories: New lined and primary lined versions
Certificates: New styles
Coloring Sheets: Portrait and Landscape, with and without prinary lines
Game Boards: New styles such as circle, beads, woods, long path, numbered path, perimeter, racetrack, race to flag, treasure, spiral, road, sports, and more
Find the Picture: New styles such as autumn, fall, and space
Mazes: Many new styles
Menus and Lists: New styles such as clipboard, camping, candy cane, hearts, snowflakes, and much more
Picture Schedules: We continually add new schedules by member request. New styles over the last year include: fish, frame, racetrack, turtle, two symbol list, and more.
Spinner: Now dynamic! Create with any number of slices and add background colors.
Themed Mats: Includes net, stocking, apple tree, and more.
Themed Picture Cards: Many new styles including camper, acorn, many balls, frog, turtle, hay, leaf, tents, and many more
Writing Pages: New styles include writing with primary lines, drawing and copying, primary rows, and more.
New Options
First-Then This template now supports color backgrounds to allow color-coding symbols.
I Am Working For has added color backgrounds for symbols, an option for the symbols on separate cards, and the choice of the goal picture to be the first or last symbol in the tray.
Large and Small Pictures template has color backgrounds and the option for pictures on separate cards
Picture Schedules now have color backgrounds

This year, LessonPix reached a record 50,000 symbols in the image library! While there are far too many to show, here are some new categories to showcase, in case you missed it.
New Characters: we have a new category called "Characters" that show specifically names characters in different positions for use in the symbol builder.
New Masks and faceshield in the "stickers" category for use in the Symbol Builder. You can add a mask to anyone.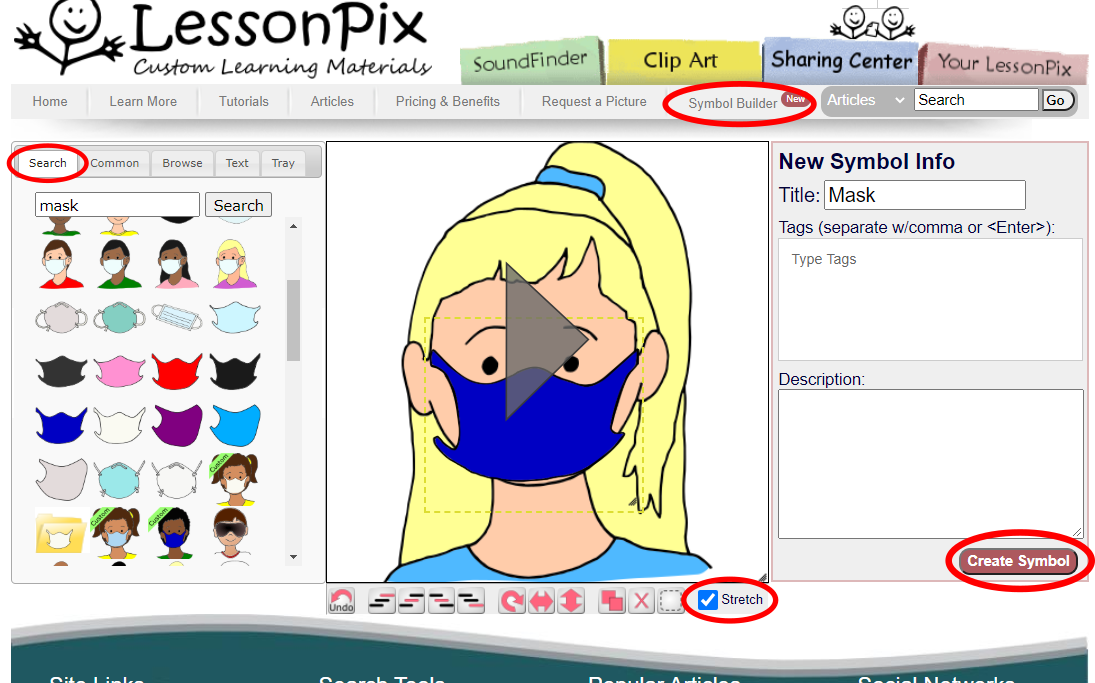 This year we have had some incredible inteviews with experts. Look for more live videos this fall on our YouTube Channel and Facebook.
And check out these great instructional videos with ideas of ways to use LessonPix in your practice.
Creating Social Skills Comic Books
Remote Learning Using Google Slides and LessonPix

LessonPix hosts hundreds of articles filled with how-to's and ideas in making the most of your LessonPix. We have also added a new category of articles "In a Story" with visual to support curriculum and language concepts in popular children's books .
Here are just a few articles from the past year.










LessonPix is a primary sponsor for two non profit companies: ATMakers and Minor Achievements.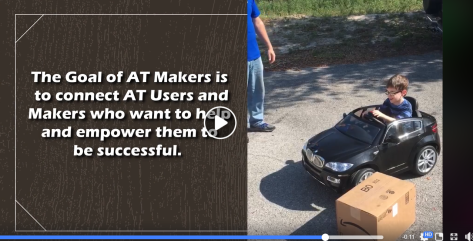 ATMakers.org introduces Makers and Assistive Technology (AT) users and give these two communities the tools they need to collaborate. Join the ATMakers facebook group to see what is happening and ask questions. Over the past year ATMakers has had some incredible outreach programs. Here are just a few:
Minor Achievements is a community-based (rising) non-profit which offers social skills classes and summer camps for children with disabilities. This year we tended a beautiful vegetable garden with our Social-Language Garden Club. Children came to play during our Tuesday Communication Gym. And we were able to host a small summer camp with a few children with special needs safely who would otherwise be unable to attend community summer camp.

Whew! And what a year it's been! With so many features and content, we hope LessonPix can help you as we navigate new teaching methods. Although it's been tough at times, these trials bring innovation and a hope for a better tomorrow.
Just know, LessonPix will continue to grow even more over the next year! Never stop learning & improving.