Four Connect Game
Four Connect (or Four-in-a-Row) is a fun game where two people take turns placing chips on the circles and say the words while playing. Print or use with online tools for learning fun!
How to Play
Two people each have a set of colored chips. You may use 2 colors of checkers, tokens, or playdough, etc.
Take turns placing chips on the circle pictures.
Say the word on the circle as you place the token.
Try to get four in a row. (9 symbol board, play as tic-tac-toe)
Block your opponent from doing the same.
First to get four in a row wins!
Here's how you can create a game:
Choose symbols to focus on a learning objective: vocabulary, articulation, social concepts, etc.
Create a Four Connect Game with 9, 12, 20, 30, or 42 symbols per page.
Print as PDF or Download as PowerPoint File to open in PowerPoint, Google Slides, or other online tools for remote learning.
Here are some examples of Four Connect games in the Sharing Center.
Sight Words Game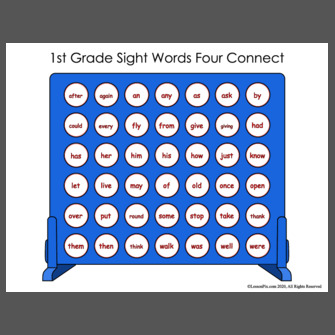 Final K Game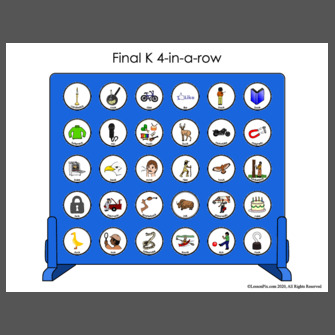 S Words