Cutting Lines Template

The Cutting Lines template is a simple template for cutting or tracing a line to a picture. Students can trace or cut the lines to practice fine motor skills or speech.
There are many options as to the type of line paths: straight, wavy, zigzag, mixed, turn, vertical, waves, long path, and long zigzag.
Lines styles include a dotted line, thick line, rainbow line, road, and a train track,
Pictures can be selected for being a motivating, academic theme or vocabulary, or social skill. These pictures can support language needs to help with cross disciplines. Check out these examples of different "cutting lines" templates.
Basic straight line:
Wavy and ZigZag
Mixed
Waves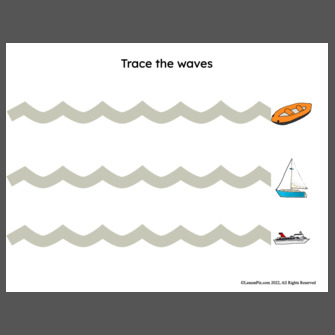 Long Single Paths
Here is a Free Sample of Cutting Lines using fall leaves: