Find the Picture Template
This template has a large themed picture with smaller pictures hidden within it. The hidden pictures are listed on the right side of the page.
This template comes in color or black and white. (When you choose black and white, color pictures in your tray will lose their color.)
You can choose the smaller pictures based on learning objectives. For example, choose words that contain a target sound for articulation practice. Or you can choose pictures of unit vocabulary such as animals or shapes.
The choice of large pictures are the following: beach, forest, house, falling pictures, restaurant, space, and zoo.
Here is a Free Sample of Find the Picture, FallingPictures Style: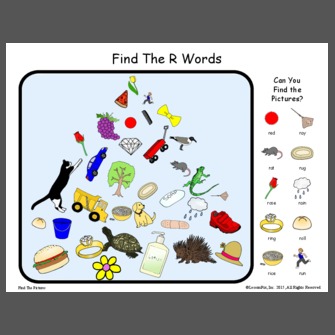 Free Sample of Black and White: Find the Fruits and Vegetables