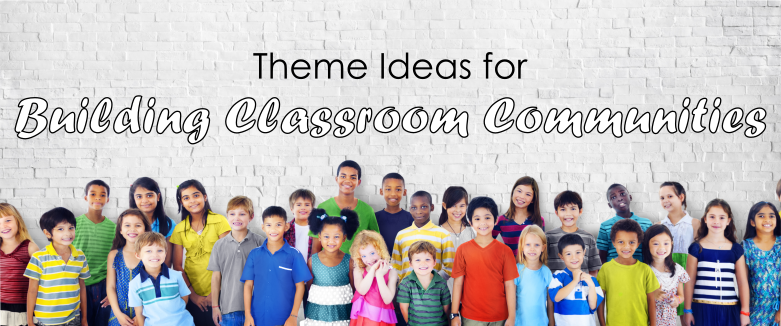 Theme Ideas for Building Community

The beginning of the year is a time for building a sense of community in the classroom. All children should feel secure, welcomed, and supported by their new classroom environment. Here are a few theme ideas to help build the sense of community to help all children be ready to learn.
Ocean Theme
Sports Theme
Space Theme
Crayon Theme
Cowboy / Rodeo Theme
Fairy Tale / Kingdom Theme
Bear Theme
---
Ocean Theme:
Ocean theme is a popular and loved theme to decorate a classroom and begin to build a sense of community.
Teacher Ideas:
Room decoration: Have students paint bulletin board paper with child size-rollers / sponges. Then cut out fish shapes, staple 2 together and stuff with newspaper. Hang the 3-D fish around the room.

Use sand pails to store classroom supplies
Octopus name tags with paper reinforcers to resemble suckers.
Use beach towels to teach perimeter / defined areas of a classroom.
Bulletin Board Ideas: Welcome back to "school", Swim on in, Swim into prek, PreK is "Fin"tastic, Welcome to the sea of learning, Hooked on learning, Make a splash in PreK, Glad to "sea" you, What a catch
Books:
Have you Filled Your Bucket Today?- by Carol McCloud and David Messing
Rainbow Fish- by Marcus Pfister
Small Group / Center Ideas: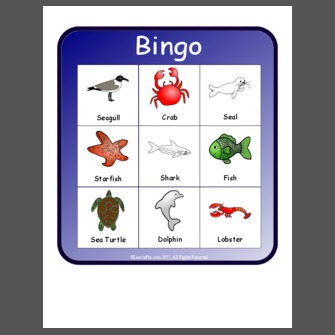 Children dig in sand to find personalized seashells: Shells have classmates' names on them. Students can find their own name and friends' names.

Cut out fish from colored foam. Write individual students names on both sides of the fish and place a paper clip on the nose of the fish. PLace the fish in a water table or bin. Tie a magnet with a string to a stick to make a fishing pole. Students fish for their name.

Message in a Bottle School Tour: Ahead of time- distribute bottles around school that contain a message with a message on where to go next and who to meet.
Science center: write students' names on clear laminated sheet with Sharpie and cut out. Place in clear bottle of water. Children find their names floating in a bottle.
Die cut foam letters. Students "fish" for letters in their name from the water table and stick to the side of water table.
Using a vinyl placemat, write child's name with permanent marker. Students can then trace their name with fingerpaints and it will wipe off when they are finished.
Use lacing cards with various sea animals. (Lessonpix.com create materials using pictures you select from our library. Laminate and punch holes around the perimeter.)
Beach chairs in the reading center
Art Ideas:
PreK Super Stars: Personalize starfish cutouts for each child. Place on Bulletin Board with crepe paper seaweed, fish cut outs etc.
Ahead of time – Write child's name on paper with white wax candle. Then child paints with watercolor and name magically appears.
Cooking- Add a few drops of blue food coloring to a container of softened cream cheese. Spread some of the cream cheese on a piece of toast or a cracker, and press on goldfish crackers.

Make a Lobster - use red hand prints for the claws and a red footprint for the body. Too Cute!
Classroom Management:
Each child has a bucket and children can fill their bucket with ocean items (starfish, fish) when they are "caught" being good. When they have 6 items in their bucket, they can go to treasure box.
Songs and Games:
Fishy Pokey (to the tune of the Hokey Pokey): ie: "Put your right fin in, Put your right fin out, Put your right fin in and you shake it all about. Do the Fishey Pokey and your turn your self around. That's what it's all about." Put your gills in... tail in.... etc.

Play "hot potato" using a small beach ball. When the music stops, who ever has the beach ball steps out.

Game, "I Can Do That!"
Sharing Center Ideas: Here
---
Sports Theme
Sports Theme is a great way to tie in the importance of team work and setting goals.
Teacher Ideas:
Name our class "Team Eagle." (Mascot, teacher name, etc.) The students were the players, and teachers are the coaches.

Have "Team Meetings" to discuss goals, progress, and the importance of working together as a team.

Decorate room with sports memorabilia, pom poms, etc.

Make pennants that say "Go Team!", "Work Together", "Be a good sport".

End of the Year, Students earn a "Letter" On Bulletin Board, use artificial turf for a football or soccer background and tile Contact Paper or peel-and-stick flooring that looks like hardwood for a basketball court.

On a designated day, everyone wears their favorite sports team clothing to school.
Books:
Curious George Plays Baseball

- by Alan J. Shalleck

Roasted Peanuts

- written/illus. by Tim Egan

Take Me Out to the Ball Game

- written/illus by Jim Burke
Small Group / Center Ideas: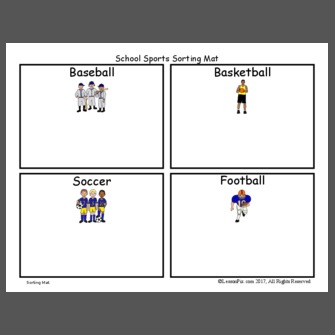 Create "Baseball cards" with photo of each students and a short biography.
Get as many different types of sports balls as possible (basketball, baseball, hockey puck, etc.) and pass them around your class and talk about each one. During play time you can also let your children play with them
Have students plan a new game with rules. Play during outside play.
Toss / Roll a ball to different students. When they catch the ball, they have to share something about themselves or what they like to do.
Create an obstacle course around the classroom. Focus on leaning parts of the classroom, where things belong, where to put completed papers, etc.
Include games like Chess, Checkers, Connect 4, etc. in a games center.
Write a class cheer or class song
Design team logo. Vote on best design
Science experiment: does it roll or slide? Take various objects from around the room and see if rolls or slides down a ramp.
Design a track, then build the design in the blocks center.

Shoe Game – Have everyone take off their shoes and put them in a pile in the middle of the room. Mix the shoes up. Divide the cheerleaders into 2 groups. See which group can find their shoes and put them on first. When they have their shoes on the team done first must sit on the floor.
Art Ideas
Create Sports Magazine Covers with photos of students.
Make individual pennants "All about Me"
Design class / team t-shirt
Paper mache' on a balloon to create favorite balls
Classroom Management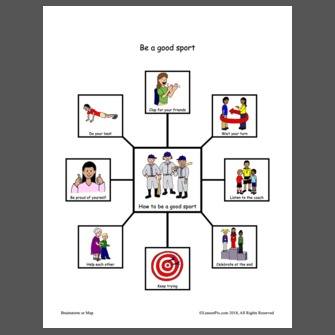 Students have an icon they can move around a baseball field working towards a "home run" to score and go to a treasure box.
Penalty Box for time to stop and think
Songs and Games
Take Me Out to the Ball Game
Play Tennis with fly swatters and balloons
Relay Races

Sharing Center Ideas: Here
---
Space Theme
Space theme is a fun theme to decorate a classroom and begin to build a sense of community.
Teacher Ideas:
Write a Welcome note to parents from "Mission Control"
Star name tags and decorate with glitter
Bulletin Board Ideas: Prepare for Liftoff, Reach for the Stars, Far Out, Constellations
Books:
Oh The Places You'll Go- by Dr. Seuss

Happy Birthday Moon- by Frank Asch

Hedgie Blasts Off- by Jan Brett

Our Stars by Anne Rockwell
Small Group / Center Ideas: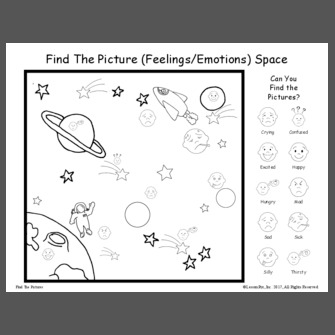 Make and read class book where every child has a page. "Planet PreK" Include photo with children wearing a space helmet and information about each child.

Include pictures and manipulatives of planets and space related items.
Watch a shuttle / rocket liftoff archive at NASA or YouTube
Become explorers. Go on a scavenger hunt around the school.
Read book by flashlights, tie to pajama day.
Art Ideas:
Use model Magic to create a moon. Punch a hole in the top to hang with a string.
Create a rocket with Pringles cans and craft pieces.
Astronaut faces: Have students paint paper plates gray. Then on a small, skin-colored circle, have the students draw a self-portrait. Glue in the middle to look like an astronaut head.
Crinkle foil and decorate with black paint and glitter to look like moon rocks.
Create a "starry Night" with purple, blue, and black paint and gold star stickers.
Have students create a spaceship. Provide a box of various materials such as paper towel rolls, lunch trays, milk cartons, soda bottles, yarn, popsicle sticks, butter tubs, foam, etc. Students can use tape or glue and paint their project when it is completed.
Classroom Management:
Blast-off: Create paper ro
ckets with the children's faces looking out a window. As students make good choices, their rocket moves higher.
Super Star students
Songs and Games:
Flying High in the Sky

Twinkle Twinkle Little Star

Sharing Center Ideas: Here
---
Crayon Theme
Crayon theme teaches creativity and diversity and as well as a popular school theme.
Teacher Ideas:
Use purple crayon lines on receipt paper or chalk to draw a line to the classroom for Open House. "This Way to Ms. Smith's Kindergarten" (Harold and the Purple Crayon)
Decorate bulletin boards with white paper and let children "color on the walls"
Decorate with crayons, crayon boxes, Harold, etc.
Bulletin Board: make a giant box of crayons with large crayons sticking out. Put students names on individual crayons.
Staple crayon boxes (reinforced with clear packaging tape) to bulletin boards to hold name cards, calendar items, and with interactive bulletin board displays.
Books:
The Crayon Box that Talked- by Shane DeRolf - Show class that crayons are alike (used to draw, size, shape) and different (colors, some used more than others). Explain that this story is a make believe story about how crayons learn they can all get along.

Dog's Colorful Day- by Emma Dodd

Harold and the Purple Crayon- by Crockett Johnson
Small Group / Center Ideas:
Make a class book with a yellow cover that looks like a box of crayons. Have each student decorate a page and include a photo and their favorite color.

Make crayon shaped flannel pieces.
Make crayon shaped name tags.
Harold Says (Simon Says) - pull paper crayon out of box with a direction. Have students follow the direction - if Harold Says!
Art Ideas: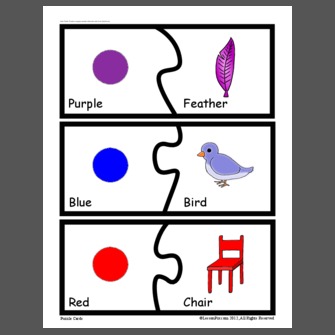 Make crayon crowns

Place crayon shavings between wax paper. Teacher then irons the paper to create stain glass shapes.

Draw a picture with crayons on dark paper. Then paint with a salt water mixture. When the picture dries the salt will make it sparkle.
Draw a picture with light crayons on white paper- press hard. Use blue, purple, and black watercolors to paint over crayon drawings. Colors will appear more vibrant.
Classroom Management:
Each child has a "box" of crayons. As they make good choices, they earn crayons for their box. When they have 8 crayons, they go to the treasure box.
Songs and Games:
Song: "Red and Yellow, Green and Blue, [child's name], [child's name], Where are you? (Child raises hand) Look, Listen, Hear our Cheer. We are Glad that You are Here!"
---
Teacher Ideas:
Mount children's photos on Wanted Posters for Bulletin Board.
Make a classroom door gate-style with brown paper.
Write "Howdy Partners" or "Welcome to our Ranch" on a sign. Hot glue rope to decorate the sign.
Make a Buckaroos Bulletin Board. Include student photos with lasso string tied around.
Bulletin Board "Boot-Scootin Good time", "Kindergarten Corral"
Books:
Sing Sophie- by Dayle Ann Dodds.

Little Red Cowboy Hat

- by Susan Lowell

Grumpy Bunny Goes West

- by Justine Korman
Small Group / Center Ideas:
Make peanut butter (or another) sandwich. Punch out shape using boot shaped cookie cutter.

Lasso Practice (rope or hula hoops)
Hide plastic toys, animals, sight words, or kids names in a sand table filled with hay.
Math counting project: using die-cut cows, match number of spots on cow to corresponding number.
Make pairs of cowboy boots from die cut. Write on or have pairs of different colors. Have students locate matching pair from around the classroom.
Go on a trail ride around the school.
Make trail mix.
Make a class book. Each child decorates a page and completes the sentence "A cowboy can ______".
Make pretend campfire. (Wood, white Christmas Lights, red and orange tissue paper) Tell stories around the fire.
Take pictures of students wearing a cowboy hat. Upload them to LessonPix.com and make bingo cards of the class photos.
Art Ideas:
Make paper cowboy hats with names on front

Decorate paper cowboy boots.

Tie-Dye bandanas

Fringe a paper bag vest

Sheriff's badge
Classroom Management:
Label Classroom Jobs as "Ranch Hands"
Songs and Games:
She'll be Coming Around the Mountain
Children try to jump over a wiggling snake (jumprope)
Turkey in the Straw
Home on The Range
Line Dancing
---
Teacher Ideas:
Cut out a drawbridge door from a refrigerator box and lay on the floor in front of the door. Use gray paper for chains as if to connect the drawbridge to the top of the door. Decorate with gray paper stones around the doorway.
Books:
Paper Bag Princess- by Robert Munsch.

Princess Knight

- by Cornelia Funke

Princess and the Pizza

- by Mary Jane Auch
Small Group / Center Ideas: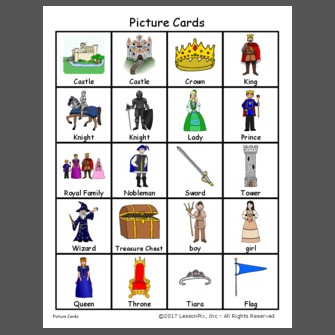 Give a tour of the "kingdom" on the first day as you walk around the various learning centers and around the school.

Make "jewels" from jello jigglers.
Practice manners
Art Ideas:
Decorate name tags with jewels

Use variety of materials (styrofoam, paper towel rolls, etc) to build a 3-D castle. Paint.

Use various paper shapes to form a 2-D castle.

Make crowns.
Classroom Management:
Jewel stickers

Collect 5 jewels and students can go to the treasure box.
---
Teacher Ideas:
Bulletin Board: "Beary Sweet Class", "Beary Nice"
Have the students bring a bear on the first Friday when school starts. Students can share about their bear to the class, and teach the bear class rules and routines. Make a class book of each child and their bear.
Books:
Brown Bear Brown Bear- by Bill Martin Jr.

We're Goin' on a Bear Hunt

- by Michael Rosen

Teddy Bear's Picnic

- by Jim Kennedy

Corduroy

- by Don Freeman
Small Group / Center Ideas:
Graph gummy bears by color

Bear counters activities
Counting Teddy Grahams
Make class book "Brown Bear Brown Bear" using students' names.
Make a class book with coloring pages of the animals from Brown Bear Brown Bear (Lessonpix.com create materials using pictures you select from our library. Laminate and punch holes around the perimeter.)
A class stuffed bear goes home with different students for the weekends. The students write in a journal about the bear's experience at their home.
Corduroy found a new friend named Lisa. Discussion: What does friendship mean? Have students draw a picture of their new friend at school.
Have a Teddy Bear Picnic
Scavenger hunt - look for Teddy Bear die cuts hiding.
Art Ideas:
Cut bear shapes from sandpaper. Rub on different scents (cinnamon, soap, lemon peel, wax crayon, piece of leather, etc)

Bear puppets

Sensory books from story Brown Bear, Brown Bear. Use feather to decorate bird, fur for bear, cotton for sheep, etc.
Classroom Management:
Beary Good Choices

Use a stuffed bear to teach social skill lessons.
Songs and Games:
We're Going on a Bear Hunt song
Resources:
These ideas are a collection of ideas I have used in my classroom or know of colleagues who have used them. Many of these ideas may have come from Mailbox Magazine or various websites over the years.

#gen ed, #general education, #early childhood, #general ed, #kindergarten, #first grade, #special education, #special ed, #school, #social skills, #behavior strategies