Sight Words! Activities to Build Speed and Fluency in Reading
Sight words are all the words that can be read immediately, on sight, without having to use decoding strategies. A reader looks at a sight word and recognizes it in less than one-tenth of a second. The first sight words children often learn are high-frequency words (the, is, and, can, to, with, are, and a). A child should know 25 high-frequency words by the end of kindergarten and 100 by the end of first grade.
Teachers boost children's reading fluency through word-directed activities that help them acquire sight vocabulary. LessonPix makes it so easy to create activities.
Here are some sight word cards - great for scavenger hunt or a memory matching game (print 2 copies).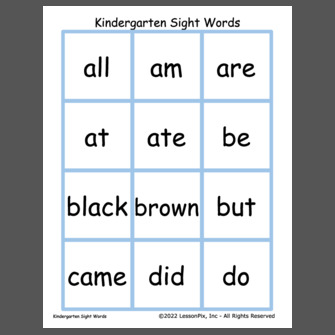 In this short video we make 2 activities, share a material in the Sharing Center and look at the LessonPix Play Tools - all in under 5 minutes.
Readers learn sight words from repeated exposure in BOTH isolation AND in continuous, authentic, and functional texts. For example, children may build a word with letter magnets, see it in a poem on chart paper, and read it in familiar easy-to-read books. Practice practice practice!
Here are a few great activities used to teach sight words:
Word Walls: Word Walls are a collection of words displayed in large visible letters on a wall or bulletin board. They provide a permanent model for high frequency words for reading and writing activities.
Flash Cards: Use flash cards to practice identifying these high frequency words. Pull a card and hunt around the room or in books to find matching words. Print two copies for a memory matching game.
Phoneme Mapping: Research shows that beginning readers decode high frequency words using the same strategies as other words. While talking about specific sight words, identify the grapheme (letter/ letters) that match the phonemes (sounds) of a word. (th-i-n-k = think = 4 phonemes; w-i-th = with = 3 phonemes). Use sound boxes to help break a word into the phonemes.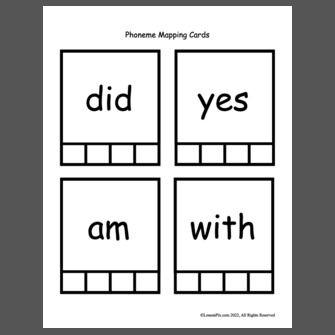 Squish playdough, move tokens, or stamp the boxes to practice saying the sounds within a word. How many sounds do you hear?
Matching Words: Find the matching sight word.
Building Words: Use letter magnets, letter blocks, or scrabble tiles to build common sight words. Cut up words and have students reassemble. Try using our "Puzzle Cards" to turn a word into a puzzle.
Bingo: Play a class game of bingo for students to find the matching sight word. The LessonPix PlayTools make the drawing cards so much fun!
Bingo Dauber: Bingo daubers are dot markers that come in avariety of colors and are fun to use. Students can practice reading sight words as they mark each word. You can also use playdough, small toys, buttons, stamps, stickers, or other small objects to mark each word they read.
Play Four Connect with a partner, marking the words with each with a different color bingo dauber.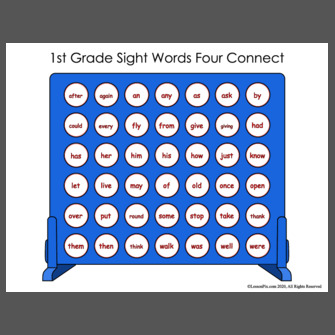 Frequency Graph: Make dice or a spinner. Race to the top - Graph the number of times each word appears until one word makes it to the top of the graph.
Game Boards: Play board games by rolling dice or a spinner and moving your token to a sight word space.
Card Games: Play a game of Go Fish or Uno using sight words. You may also use these playing cards to draw a card and use in a sentence.
Partner Games: Play games with a partner such as Tic Tac Toe and Dots & Boxes. Read the sight word as you take your turn.
Writing: Students practice learning sight words by writing sight words. Here are some materials for the writing center.
Sight Words Within New Vocabulary: Knowing sight words facilitates reading fluency and allows new reader to pay attention to new words. They may help springboard to solving unfamiliar words (with – withered).

Use sight words with word families to help decode more words quickly and improve reading fluency.
Sight Words in Context: It is important to teach sight words within a sentence. This can be done by rereading simple books, reading poems, highlighting words on charts or within text.
To help teach specific words in context, make a small book with repetitive text.
Write class poems and publish by displaying or palcing in a class book.
Point and follow text as you recite words to familiar fingerplays and songs. Use a highlighter or wikisticks to discover target sight words.
In Literature: Sight words include the high frequency words found in all literature. For the Early Childhood Classroom, some books are made specifically designed to focus on these words. For example, Dr. Seuss completed Cat in the Hat based on the 220 Dolch sight word list.
Here are some great books with high number of sight words:
Dr. Seuss Books: "Cat in the Hat", "Green Eggs and Ham"...
Elephant and Piggy Books by Mo Willems: "Can I Play Too?", "I am Going", "My Friend is Sad"...
Books by P.D. Eastman: "Go Dog Go", "Are You My Mother?"
Here are some more stories with visuals and activities (from our In A Story Library)...
Taking the time to notice, teach, and play with sight words will help build reading skills. Most of all have fun learning and playing together!