Recipe Templates With LessonPix and Microsoft Word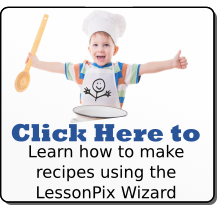 Recipe templates embed valuable learning opportunities in language, sequencing, following directions, and measurement. LessonPix maintains an affordable price by keeping the usability simple; however, recipe templates are not always simple. Our members have found innovative ways to create recipes within LessonPix using a variety of templates.
Because you can embed LessonPix inside of Microsoft Office for Word and PowerPoint, you can now make the visual recipes exactly as you need.
Starting with a Word Recipe Template
I have created some recipe template images and set them as a watermark. (Go to "Design" and then "Watermark". I unchecked the box for "washout" so you can see the recipe designs in full color. Use the Lessonpix add-in to add pictures. Insert text box to add text as needed in the page.
Here are blank templates to start and a sample using the template:
1. Light Pink template and sample: Frozen Yogurt Bananas
2. Blue template and sample: Playdough Recipe
3. Gray template and sample: Caramel Apple Nachos
More Blank Templates
Getting Started with Microsoft Word Add-In
Hope this helps and have fun cooking!!