9 Ways Speech Language Pathologists Love LessonPix
"If you can dream it up, you can make it in no time flat with LessonPix!" (Allison McGuire, SLP).
LessonPix is an online resource to create custom materials for your practice. It offers a wide variety of templates and tools for all areas of intervention. Check out how LessonPix can help you create custom materials for your individual needs.

1. Speech Sound Disorders - Articulation and Phonology
LessonPix provides incredible tools to help therapists customize materials to meet their students' individualized speech production goals. Speech sound disorder refers to any difficulty or combination of difficulties with perception, motor production, or phonological representation of speech sounds and speech segments (ASHA.org). Signs of functional speech sound disorders include omissions ("poon" for spoon), substitutions ("wabbit" for rabbit), additions ("buh-lack" for black), distortions, and syllable level errors ("tephone" for telephone). Learn more about speech sound disorders at ASHA.org.
LessonPix provides POWERFUL TOOLS to locate the specific sounds you need in specific locations of words. Click to Learn more about our SoundFinder Tool and our Minimal Pairs Tool.
With LessonPix, SLP's may use a pattern strip template to practice alternating patterns for phonological processing errors. They may create board games with medial /s/ sounds or uno type cards with final /k/ sounds. Check out many articulation activities in the Sharing Center.
Check out these other articles for more information on LessonPix and articulation.
2. Language Therapy
Language is the comprehension and use of spoken, written, and/or other other communication systems (ie: sign language). A language disorder may involve the form of language (phonology, morphology, syntax), the content of language (semantics), and/or the function of language in communication (pragmatics) in any combination (ASHA, 1993). Language delays can be a distinct diagnosis or co-occur other conditions such as autism or hearing loss.
SLPs use LessonPix to create individualized activities to promote specific goals. For example, a child may play a game involving thematic vocabulary, create puppets to act out stories, or use a choice board for pragmatic language conversation starters.
Here are some ideas from the Sharing Center:
Check out more articles for Language Therapy
3. Literacy
Everyone should have the opportunity to learn to read and write, regardless of spoken communication ability. The ability to read and write opens the path to accessing knowledge and expeiences. Because Literacy is closely tied to language, intervention should begin with assessments, modeling, and opportunities to read.
LessonPix provides extensive resources for supporting literacy needs in reading and writing. For example, the "In A Story" section of articles provides ready-made activities to support children's stories.
LessonPix Sharing Center offers a wealth of activities to support literacy from alphabet recognition to phonological awareness to reading comprehension and more. Here are some examples of activities that support reading and writing.
Check out these articles about Literacy with LessonPix:
4. Fluency
Fluency refers to continuity, smoothness, rate, and effort in speech production. Stuttering is the most common fluency disorder, and this disorder often coincides with psychological, emotional, and social issues. Learn more about Fluency here.
Treatment for fluency disorders is highly individualized and based on a thorough assessment. When working with children who stutter, an SLP collaboates with parents and families to create an environment that facilitates fluency.
SLP's utilize LessonPix to create visuals strategies and fun games to promote fluency. Because the materials generated are in a PDF file, fluency visuals can be e-mailed for home support. Check out these Fluency materials from the Sharing Center. Here are some examples:
5. Voice
A voice disorder involves concerns with voice quality, pitch, and loudness. These may include a roughness, breathiness, weak voice, abnormal pitch, hypernasal, etc. SLP's use LessonPix to create custom visual cues or activities to support Voice.
Check out these materials from the Sharing Center about Voice.
6. Autism and Sensory Processing
Many SLP's utilize tools and resources in LessonPix to support learners with Autism and/or Sensory Processing concerns. People with Autism have challenges with communication and social skills. In addition, there may be some restricted interests and/or repetitive behaviors. Autism is a spectrum that can range from mild to severe, depending on how it affects daily life.
An SLP can help a person with autism build communication and social skills in a variety of settings. The individual with autism may require an AAC device for communication. The SLP may also provide sensory strategies to help process and manage stimuli.
LessonPix provides numerous resources to support people with Autism and/or Sensory Processing delays. Check out these samples from the Sharing Center.
Here are more articles about using LessonPix with Autism and Sensory Processing.
7. Executive Functioning
Executive Functioning is a set of mental skills which allow students (and adults) to effectively manage their thoughts, feelings, and behaviors so that they can achieve their goals. Everyday learning requires paying attention, managing information, organizing thoughts and ideas, and creating systems to remember information over time- all cruicial executive functioning skills for success.
SLP's can support a student with concerns in Executive Functioning through individualized lessons and activities. For example, a student may require organizational strategies, such as a visual schedule or labeled notebooks. The SLP could generate role-playing situations on task cards to practice newly learned skills. In addition, LessonPix offers many themed templates to engage interest areas within their visual reminders.
Here are some examples of executive functioning materials from the Sharing Center.
More Articles:
8. Augmentative and Alternative Communication (AAC)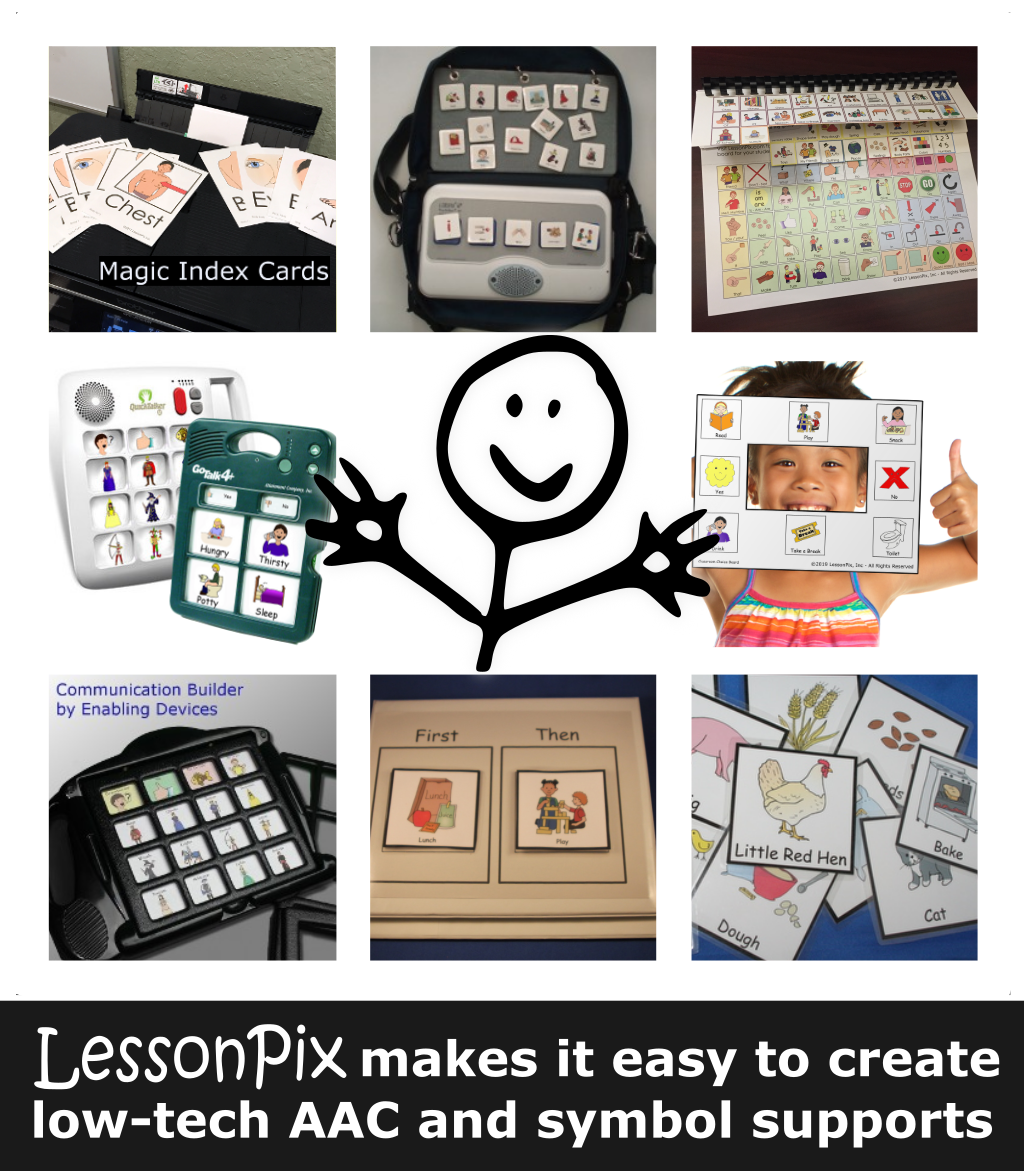 Augmentative and Alternative Communciation (AAC) describes multiple ways to communicate beyond voice, either temporarily or permanently. AAC is multi-modal, permitting individuals to use every mode possible: tablets, sign language, gestures, communciation boards, picture symbols, or writing- to name a few. There are no prerequisites for getting started in AAC. AAC may also be considered for people who have speech that is difficult to understand. AAC is individualized for needs and best taught through modeling.
LessonPix offes a variety of templates to support your AAC needs. The Communication Board Template easily makes a core and fringe board. LessonPix also offers many overlay templates for mid-tech devices such as Go-Talks and AbleNet buttons. The Eye Gaze Board provides low-tech communcation to a person who is unable to talk, move, or gesture.
Here are some activities from the Sharing Center to use in working on AAC.
Here are some device overlays and Eye Gaze Sample.
The Translation Tool will translate your material to any language with Google Translate.
Here are more articles on AAC:
9. Telepractice and Distance Learning
As a result of the COVID-19 pandemic, therapists and teachers had to learn to adapt their methods to virtual settings. Working with students through technology presents a completely different set of challenges.
LessonPix offers powerful tools to support instruction and therapy in many ways, including telepractice. For example, all of our custom learning materials have been created as a pdf, which can be easily e-mailed to families. LessonPix also offers a PowerPoint download to use easily with video conferencing tools. The LessonPix Play Tools open within PowerPoint or outside as a separate window, to use with other applications.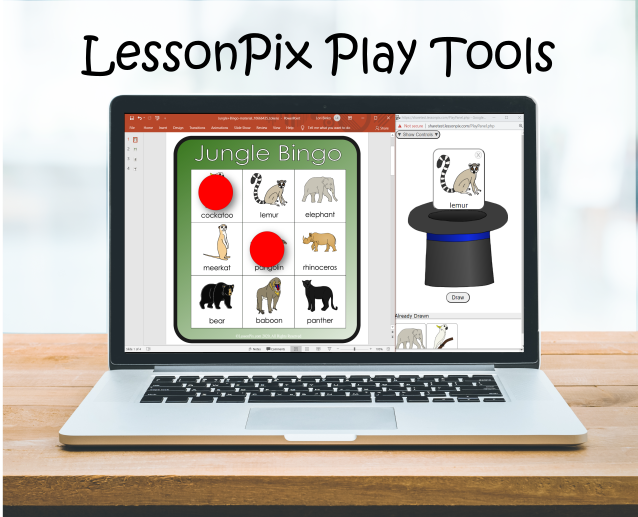 Check out these other articles for more information on Telepractice with LessonPix