Story Activities for
Knuffle Bunny by Mo Williems
Looking for a story in which every parent and every child can relate? Mo Williems's delightful story "Knuffle Bunny" illustrates the frustration of a lost toy and not being understood. This story takes place "before Trixie could talk". We join Trixie and her dad on an errand and walking through their neighborhood to the laundromat. When Trixie becomes frustrated, her cries, expressions, and body language show her feelings and affects her father's feelings too.
Video: Featuring voices of Mo, Cheryl, and Trixie Williems
Here are some materials to support concepts within the story:
Vocabulary
Knuffle Bunny provides vocabulary related to the community and emotions.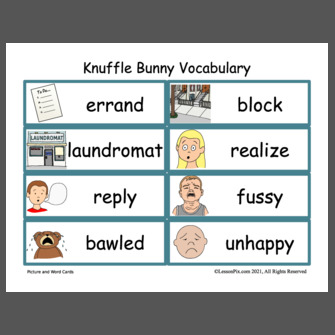 Practice story vocabulary with a fun bingo game or go fish playing cards.
Comprehension
This material provides many multiple choice question cards. Select the questions that best support your learning objectives and the students' levels.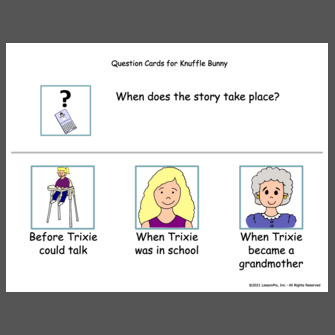 Retelling
Talk about the story, recalling events and vocabulary. Use puppets to retell or to hold as you reread the story.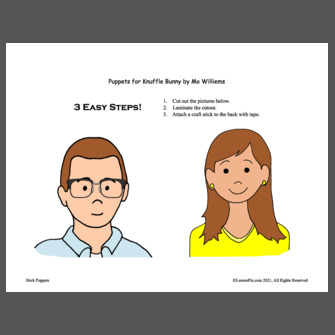 Playdough Mat
Make a playdough bunny. Talk about the events in the story as you build.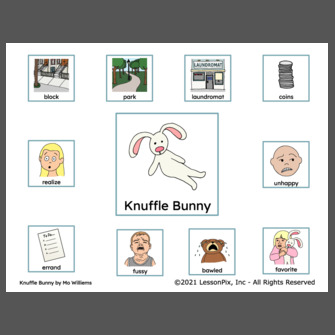 Writing
Create a "LOST" flyer. Students can draw a picture of Knuffle Bunny or another "lost item". If they can spell, have them write to describe the item and how to return it.
Find the Knuffle Bunny
Look for lost items in this "Find the Picture" activity.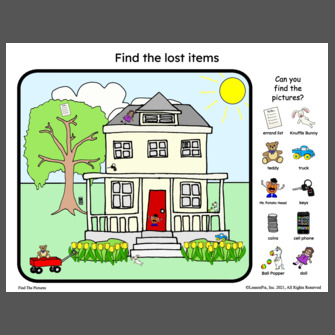 Hide bunny around the room. Focus on prepositions as students go on a scavenger hunt looking for the bunnies.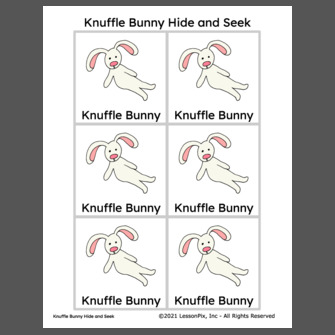 Sorting by Attributes
Sort clothing pictures by color and then try sorting by type.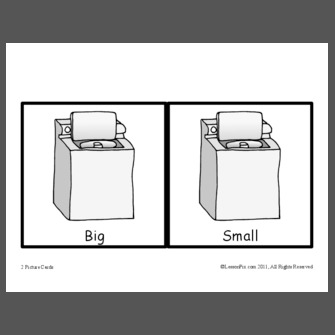 Number Sense
Count the bunnies and match the numerals.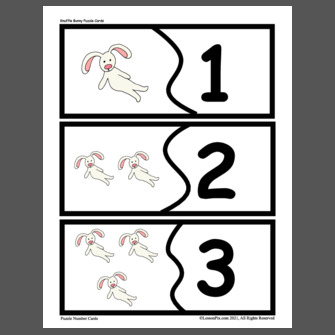 Have fun playing and learning together!!