Story Activities for
The Boy With Big Big Feelings by Britney Winn Lee
The Boy With Big Big Feelings tells about a boy who has feelings so big they glow from his cheeks, spill out of his eyes, and jump up and down on his chest. The boy tries to manage his feelings by stuffing them down until he meets a friend with big feelings too. Through his journey, he realizes that feelings are something to be celebrated. You can find this story on YouTube or support the author and illustrator by buying the book if you can.
Check out these activities to teach more about big, big feelings.
Story Vocabulary
This story is loaded with rich vocabulary: rumble, quiver, marveled, etc. Here are some vocabulary words from the story to discuss or place on a word wall.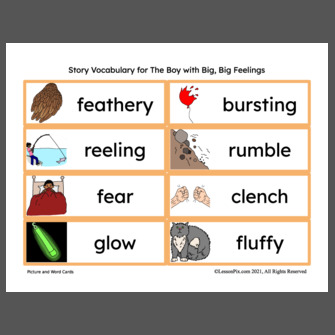 My Feelings in Colors
The illustrator, Jacon Souva, shows the boy's feelings in an aura of color. After reading the story, we used crayons to draw items (white is magic!) that make us feel happy, sad, mad, etc. Then we added watercolor to show the feelings. The wax in the crayon repels the water and shines through the paint.
Identify Feelings
These visuals show feelings pictures. Name a feelings and see if the student can find the feeling. Use picture cards or bingo game.
Name the feeling in the picture. Play Go Fish or Uno using feeling faces and name the feeling as you play. You can also identify feelings using the bingo dauber mat or board game.
Match Feelings
Match feelings by matching identicle pictures or similar expressions.
Thinking vs Feelings
We talk about the parts of the brain and what they do. For younger children we use terms of "Upstairs brain" and "Downstairs brain" for thinking vs feeling. Here is a video on "Why do we lose control of our emotions".
Students used watercolor to show the parts of the brain (yes, they are not exact), as they talk how the parts of the brain can work together to handle situations.
Here is a picture of our discussion with whiteboard notes from students. A picture of an elevator shows how we move between the thinking and feeling parts of the brain. This student stated, "we are in control, we just have to push the right button in the elevator".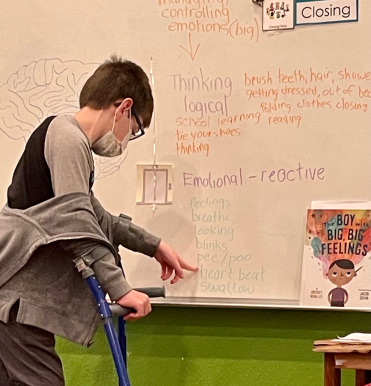 Describe Feelings and Ways to Cope
Here are activities that promote discussion of feelings and how to cope with big, big feelings.
Here we used the graphing page for a remote learning lesson. I uploaded creative commons stock photos of feelings into my Lessonpix account. (I could also use photos of students' faces in role play). Then I used the play tools spinner to pick an expression, discuss, and graph.
Identify Your Own Feelings
Use a visual on a continuum to identify your own feelings.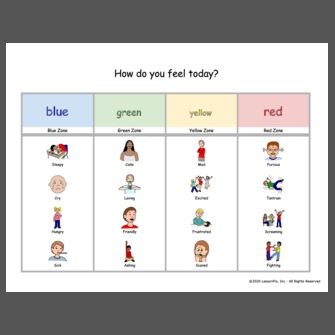 Create a wristband with feelings to identify throughout the day.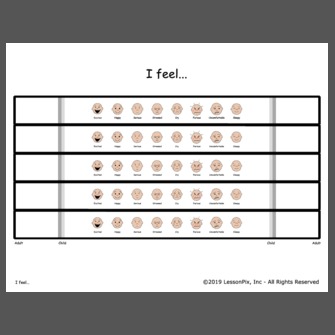 Role Play Feelings
Spin the spinner or role a die and role play the feelings.
Use stick puppets of feelings faces to talk about and act out feelings.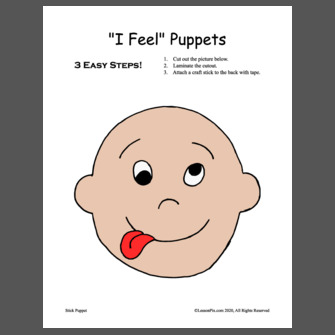 Draw or Write about Feelings
More Activities
Have fun learning and playing together!