Story Activities for
Bear Says Thanks
By Karma Wilson and Jane Chapman
Karma Wilson and Jane Chapman present once again their delightful cast of forest friends. This book focuses on preparing a feast to share with friends and that everyone has something to give. The story is adorable and illustrations are such a delight! Great for Thanksgiving time of year.
Here are some activities to go with "Bear Says Thanks".
Characters:
Introduce some of the animals in the story. Talk about animals that may be unfamiliar such as "hare", "wren", and "mole"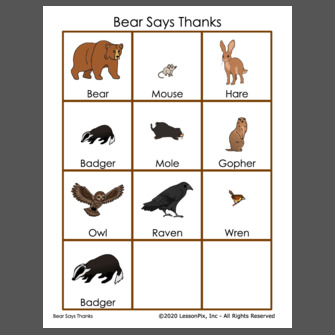 You may cut pictures and attach magnets on bak. Hide in sensory box. Students find pictures and place on cookie sheets. Use cookie sheet for retelling, describing, etc. for all of the Bear stories.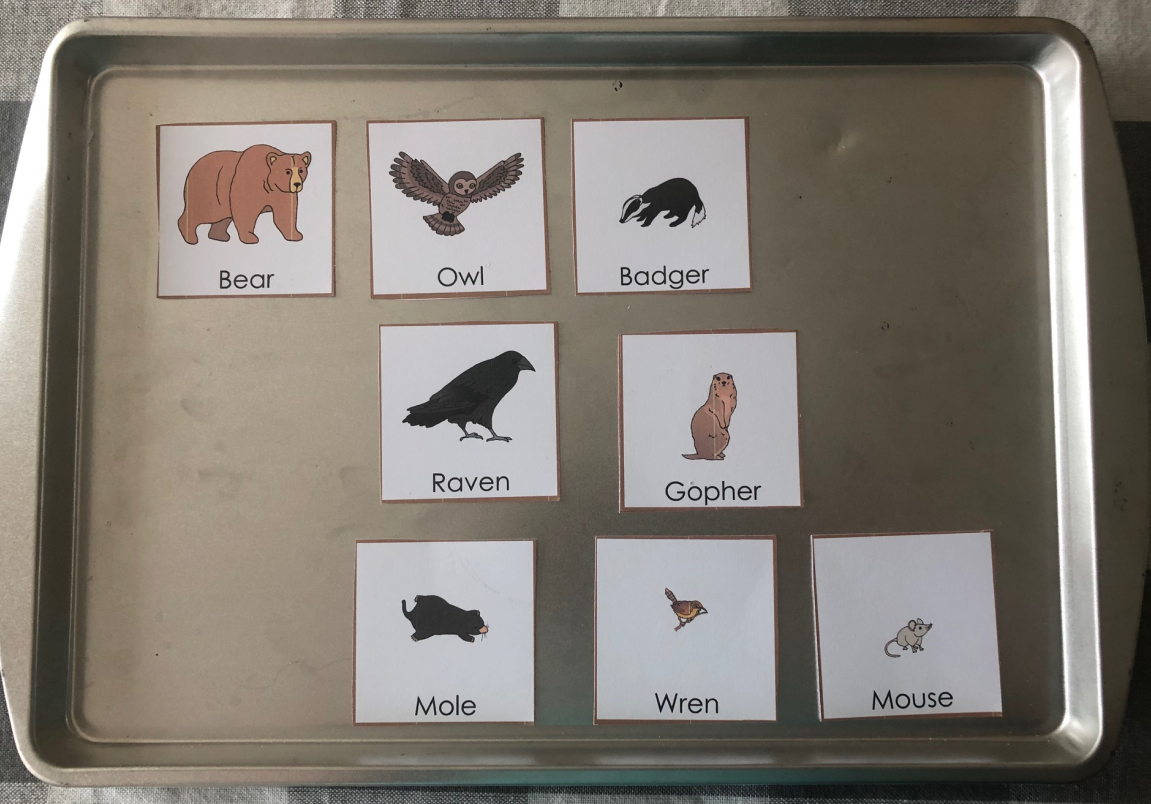 Vocabulary:
Review vocabulary words from the story. Discuss, use on a word wall, or find in the book. Depending on the levels of your students, you may focus on level 1 concrete simple words, (like "muffin" and "pear") or level 2 words that are more abstract ("delectable", "grateful" and "flitter").
Comprehension
Here are questions about the story with two visual choices.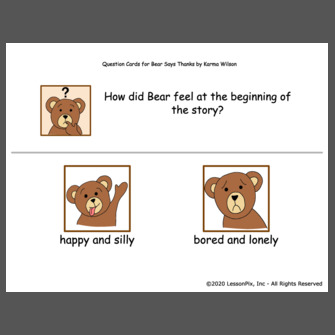 Simple flash cards with comprehension questions (no answers)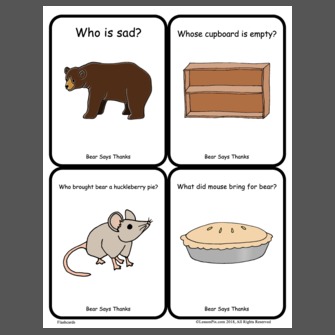 Match the animal to what they brought to Bear's dinner.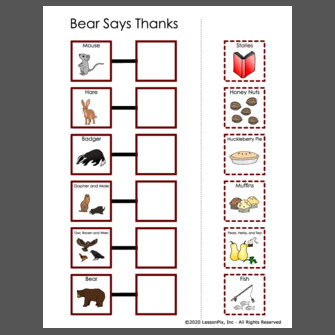 Retelling
Use puppets, illustrations, or other visuals to support retelling this story. Here are some pictures of characters to cut and paste on popsicle sticks.
Here is a small book to use to color and retell the story.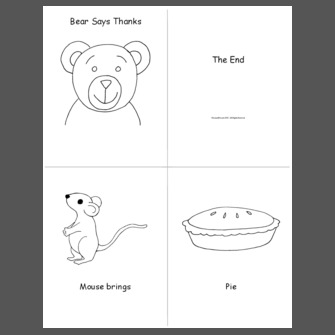 Reading Skills
Stamp and say the words that rhyme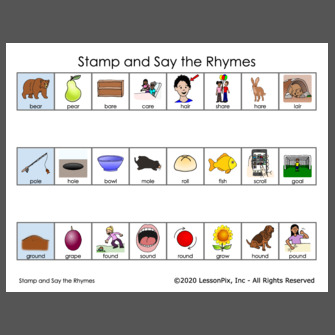 Match the homophones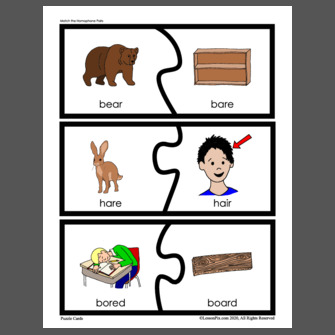 Communication Boards
Extension
Plan and put together a friendship trail mix. Have students bring one store-bought item such as popcorn, cereal, raisins, etc. Have each student place their item in a ziplock back and take turns shaking to mix the trail mix. (Or do the same creating a fruit salad)
Draw a friend. Have each student pick a partner and draw a picture of that partner. They may include drawings or writing showing what their partner is good at doing (draw friend playing soccer, dancing, or telling stories).
Make a class list on chart paper on how to be a good friend. Each student can tell what makes a good friend.
Make friendship bracelets with beads and pipe cleaners.
Make a tally graph of favorite colors or foods to help in getting to know each other.