Story Activities for
Spring Stinks
by Ryan T. Higgins
This simple, little book is a fun way to introduce young readers to the season of spring. The air is full of new spring smells as the world awakens after winter. In this book, a rabbit named Ruth and a bear named Bruce smell spring scents and come across big trouble. This book can also be used to teach about descriptive language. Best of all- it will bring out smiles and giggles for springtime fun!
Characters
Make stick puppets to retell story or hold while reading the story.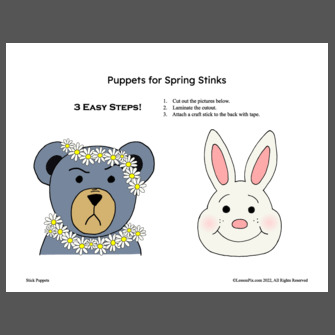 Vocabulary
Display story vocaulary on a word wall or display in literacy center for scavenger hunts and writing reference.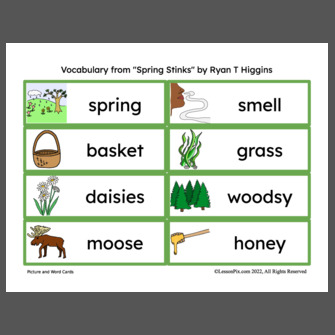 Comprehension
These question cards ask questions with multiple choice answers for students who need added support.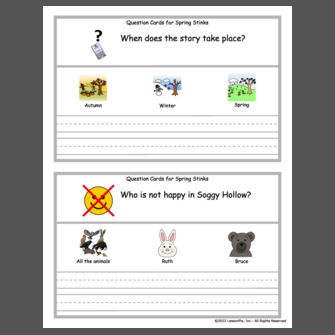 Story Sequencing
Talk about the beginning, middle and end of the story. Place these cards on the mat (included in pdf) to sort, beginning, middle and end.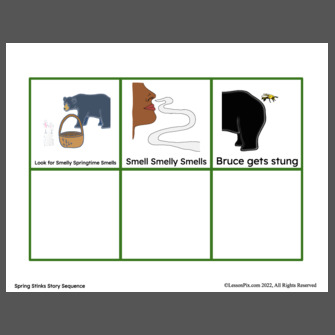 Sequence the story details. Limit number of pictures for younger readers, (such as only sequencing scents).
Writing
Hunt for these words in the story and then copy the words.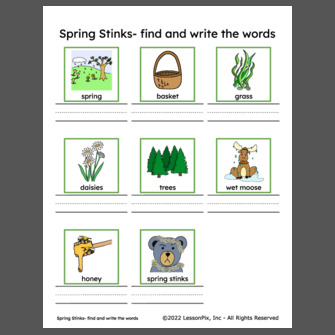 Draw and write about your favorite part of the story.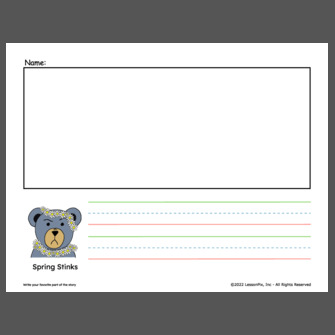 Springtime Nature Walk
Go on a spring nature walk. Bring paper on clipboards to take notes of different things you see, hear, and smell.
Talking about senses? Check out these ideas:
Smelling Jars
Make smelling jars or cups by placing an object in a small coffee cup with a lid. These may be cinnamon sticks, perfume, orange peels, candle, coffee grounds, lavender, vanilla, etc. Cover with cotton or a tissue so you can't peek. When ready to smell the scents, poke holes in the lid and try to guess the scent.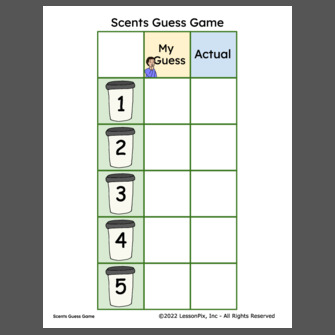 Describing Language
This story is filled with beautiful describing language. Look at various objects - what describing words tell about the object?
Using this list of describing words, name something that works with the adjective.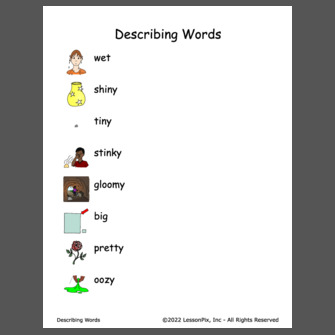 Feelings
The illustrations show beautiful expressions in both Bruce and Ruth. Talk about the different feelings through the story.
Match the bear feelings with the bunny feelings.
Have fun playing and learning together.