Story Activities for
The Little Engine That Could
by Watty Piper
This article is currently being written
The Little Engine That Could is an American classic children's story first published in 1930. This delightful story teaches optimism and perserverence as a train full of toys and treats works to get over the mountain.
Vocabulary
This story is rich with both simple vocabulary for young children as well as higher level words to delve into or just for exposure. Review just a couple of target words before you read. Check out the folder of vocabulary in the LessonPix Clip Art Library: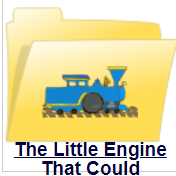 SImple vocabulary include:
feelings (sad, happy, tired), colors, animals (giraffe, elephant), toys, dolls, clown, big, little, mountain, over, treats, help, broken, pull, up, down, top, track, wheels, etc.
Higher level words include:
rumbled, merrily, shiny, indeed, steamed, machines, important, weary, rusty, hitched
Find vocabulary word cards in the story, perhaps a scavenger hunt? Place vocabulary words on a word wall for reference or in a writing center to copy and use.
Play with vocabulary in a fun bingo game.
Characters
There are many characters in this story. Start with just the trains. Identify characteristics and compare. Vote for your favorite.
Use small train manipulatives to drive by other characters in the story in the game board or maze templates.
Act It Out!
Because there are so many characters, this story makes a great class production where everyone can have a part. From script writing to props to production, there is so much to learn and explore within this book.
Students can cut out these characters and pin on shirts for a simple roll play game.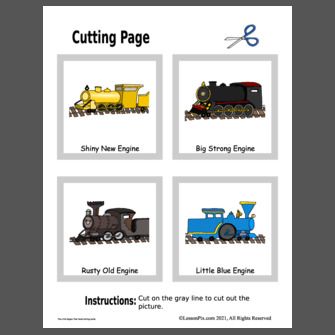 Retelling
You may also retell the story using props, visuals, and/or puppets in a dramatic play area. Focus on expressions or conversational dialogue.
Use a Beginning Middle and End Mats with picture cards to sequence the major story components.
Comprehension
Cut our cards to place at specific places in the book to ask or illicit discussion.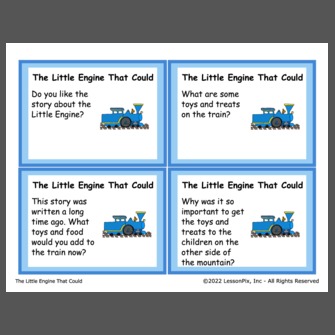 Class Books
Make class book about trains. Write your own story or use one from the sharing center. Print books for students to read and take home. Here are 2 versions of the same story (by Heather Davin) - one in color and one black and white for kids to color.
Staple together coloring pages of story vocabuary for a class coloring book.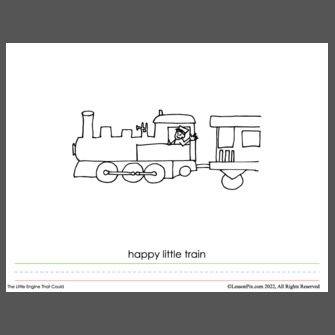 Math Center
Place train themed activities in classroom learning centers.
PowerPoint
Use LessonPix in PowerPoint for remote learning or on an interactive whiteboard. This activity uses layers (send to back, front) to discover items that start with /ch/.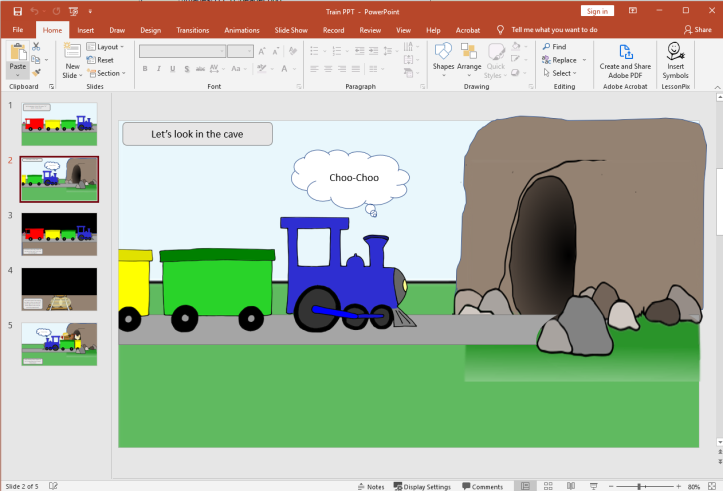 Other Train Themed Activities