I Love You Blue Kangaroo, by Emma Chichester Clark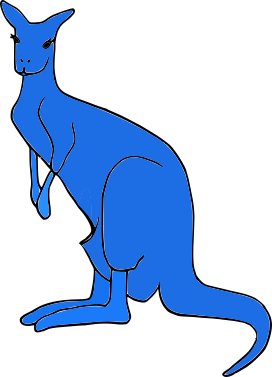 (Support the author by purchasing this book.)
"I Love You Blue Kangaroo" tells the story of the relationship between a child Lily and her blue kangaroo. When things change as new stuffed animals arrive, Blue kangaroo doesn't know if there is room for him any more. This book is loaded with adjectives that describe objects and feelings.
BEFORE YOU READ
Here are story vocabulary, most being descriptive words.
| | | |
| --- | --- | --- |
| wild | huggable | furry |
| cotton | floppy | fleecy |
| velvety | jolly | cuddly |
| fluffy | shiny | hardly slept a wink |
| wiggly | stared | ceiling |
| creatures | sadly | gurgled |
| snuggled | stroked | soft |

Pick a few words to discuss before reading. For example, show fabric samples that represent adjectives (furry, velvety, cotton, fleecy, fluffy) and let the children feel them. Make a sensory box, or use magnifying glasses in a science center to compare the different textures.
WHILE YOU READ
Place these comprehension question in the story to ask along the way or just after reading.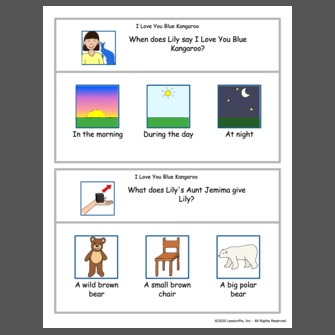 AFTER THE STORY
Characters: The animals in the story are so descriptive. Talk about the different animals. Make stick puppets for retelling and expanding language.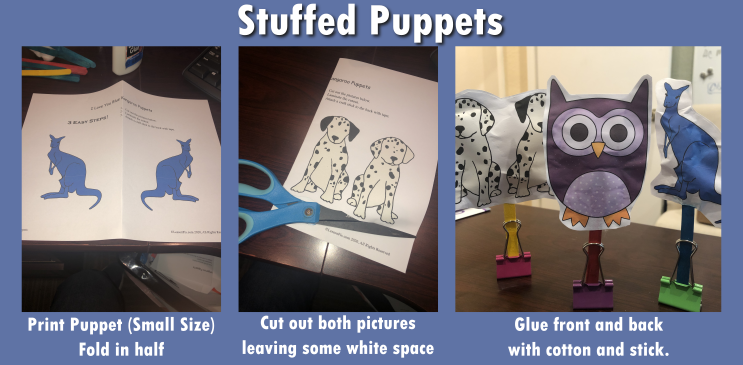 Play a game of "I Have Who Has". Pass one card to each child. Start with any child and have them read their card. Other students listen to hear if their animal is called. Then they read their card.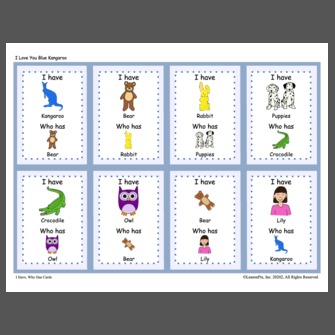 Create a chart with the characteristics of each animal. Cut into charater strips. .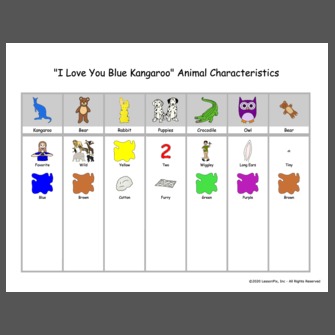 Feelings and Perspective: Look at the story from different points of view. How does Lily feel when she sleeps with all of the animals? How does Blue Kangaroo feel? Did Lily know Blue Kangaroo was upset? Use feelings speech bubbles on popsicle sticks and hold next to illustrations for the character to tell how they feel.