Story Activities for
Stand Tall, Molly Lou Melon by Patty Lovell
(Support the author by purchasing this book here.)
Be proud of who you are. Patty Lovell's message radiates throughout this adorable story of a short first grade girl with buck teeth, voice like a bullfrog, and fumble fingers. With a little help from her grandma, Molly Lou Melon's positive attitude turns her physical traits into strengths.
Stand Tall, Molly Lou Melon delivers a great message showing how we all are different in different ways.
Vocabulary
Vocabulary from the story. Find in a word scavenger hunt or display on word wall for writing.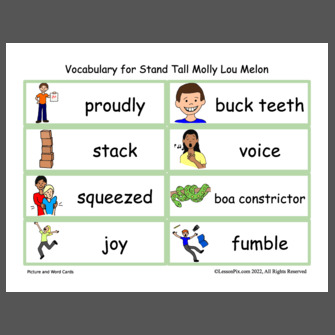 Comparitives (taller, shortest), proudly, buck teeth, squeezed, fumble, stacked, glee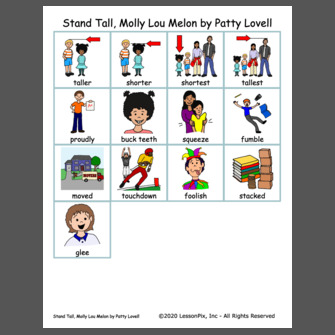 Comprehension & Discussion
DId it happen in the story? These questions ask about details with a choice of true or false. (Great to open as PowerPoint, with one question on each slide.) Here is the answers as well or use as discussion visual.
Check out these "I wonder..." open-ended questions to discuss the story with details.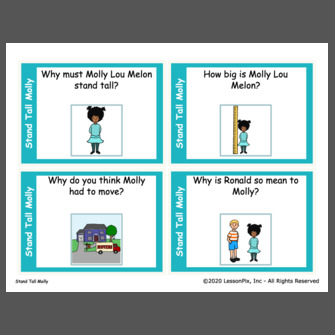 Story Sequence
Here is a Beginning, Middle and End sequence visuals. Cut out the pictures and sequence on a mat, or create "lift the flap" covers to reveal the parts of the story.
Matching
Match the pairs: "Ronald says, Molly does..."
Good Advice from Grandma
Molly's Grandma gives her some great advice. Which is your favorite? Do you have any advice for Molly?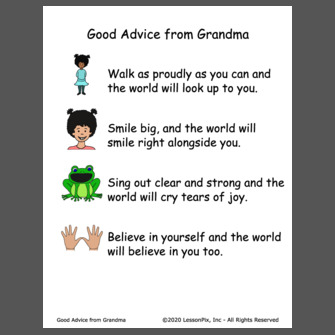 Relating to Characters
Think of Molly's traits, both physical and character. Do you share any characteristics? How are you different?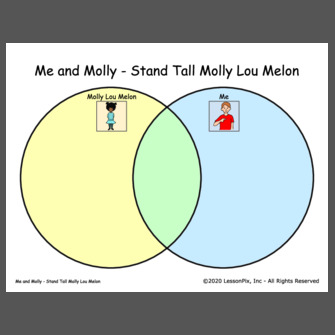 Writing
Write about why you are special on this "I like me" writing page.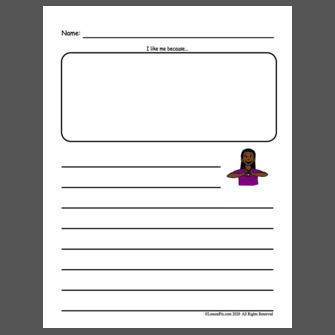 Social Books
Here are some great books to further talk about why we each are special.