Story Activities for
Blue Sky, White Stars
by Sarvinder Naberhaus
With its stunning illustrations and poetic imagery, Sarvinder Naberhaus captures the parallels of the flag with the American spirit. As a second generation immigrant, the author shares American ideals with simple yet powerful text. Read this beautiful book for the American Independence Day (July 4), Flag Day (June 14), or other American celebrations.
The illustrator, Kadir Nelson, showcases painting illustrations of diverse people and landscapes. In his commentary at the end, Kadir reminds us of the the resilience of American princispals and that "strength lies in our willingness to embrace our differences".
Check out these activities and visuals to use with this beautiful book.
Vocabulary
This book with few words, provides visual imagery with vocabulary with multiple meanings. Review vocabulary before you read and discuss possible interpretations of the words.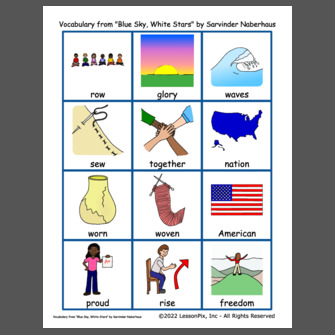 Imagery
The poetic language of this book inspires a positive and interesting perspective of the flag and the nation. Before you read, have students draw what they feel the words from the book mean to them. (Don't peek at the illustrations!)
Homographs and Homophomes
Homographs are words that are spelled the same but have diffferent meanings. Some examples are, "swing" (playground noun, or swing a bat verb), bark (dog or tree?), and fair (fair play or carnival). Homophones are words that sound the same, but are spelled different: one/won, sea/see, etc.
Before you read, listen to some of the phrases in the book and draw, write, or describe what they mean. Then read the book to see if you and the illustrator had the same idea from the text.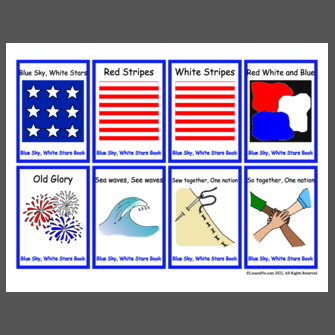 Make a list of homophone pairs. How many can you think of?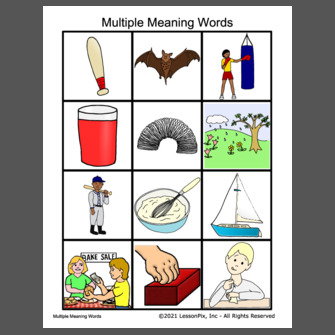 Here is a puzzle matching homophones.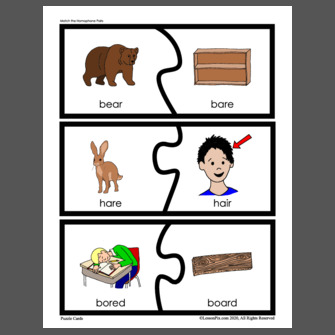 Poetry
Have students explore different poems and create their own. Review works by famous American poets such as Shel Silverstein ("Where the sidewalk ends"), Maya Angelou, and Jack Prelutsky. Check out this site of children's poets your kids should know.
Turn your favorite poems into small books, framed works with illustrations, or on small trinkets for display.
American Themes / Fourth of July
This is a great book to use for American celebrations like 4th of July and Flag day. Here are some activities to use with this theme.
Enjoy reading and celebrating together!