Remote Learning with LessonPix
In 2020, teachers and therapists proved their dedication, innovation, and ability to adapt with major changes in educational and therapeutic services. Remote Learning, distance learning, and telepractice are now prevalent in all areas. And because LessonPix is focused on supporting staff and families, we adapted with you by providing wonderful online tools and support at no additional cost.
The 2020 Global Pandemic forced families and schools to adapt instruction and rely on remote learning strategies. New programs are being implemented with funding opportunities to address learning recovery. (Learn More about Learning Recovery Here).
Check out these ways LessonPix can help with your online practice.
LessonPix Play Tools Sidebar
LessonPix Play Tools is a set of widgets you can use to help make learning fun. A new window opens to reveal tools such as a spinner, dice, draw from a hat, and timer. The Play Tools use symbols in your tray or numbers, and the window can be placed next to another window such as google slides, zoom, or online games. Learn more about Play Tool Here.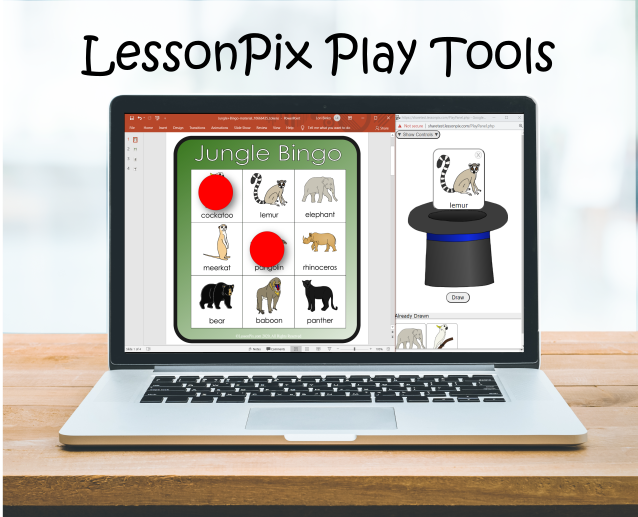 PowerPoint Add-In
LessonPix now can download as a .pdf file to print OR a .pptx file to open in PowerPoint (or Google Slides). Learn how you can download as PowerPoint a file here.

Here are 10 Simple Tips for PowerPoint with LessonPix such as using Powerpoint to read a story, as a student notebook, or to play a learning game.

Microsoft Office
Use the LessonPix Office Add-in for making learning activities in Word Documents. Learn more here.

Google Slides and Jamboard
LessonPix members can open the PowerPoint download in Google applications. Check out this article on Tips for Using Google Applications with LessonPix in Teletherapy and Distance Learning written by Beth Poss.

Or learn about the Google Add-on tool.

Video Series
Through the Covid pandemic timeline, LessonPix has created a number of video series with interviews and tips to help support the learning curve to online teaching and therapy. Check out some of these favorite videos.
Helpful Tips
Here are articles with additional helpful tips for online teaching and therapy.