Check out the Sharing Center!
Have a great idea? Need one?
Our Sharing Center lets our users publish the materials they create and jump start their own creativity by learning from others!
Share the Love!
We've heard for years now that our members want to share what they make at LessonPix. Usually, they want to talk about what they made in their blogs or post the idea to Pinterest.com. It's not about trying to give away our pictures, it's about trying to share their knowledge. Until now, that's been a problem because if you share our LessonPix generated PDFs, you are distributing our symbols (which is a big no-no!).
With the Sharing Center, you can publish the materials you create without breaking our license terms! Here's how it works: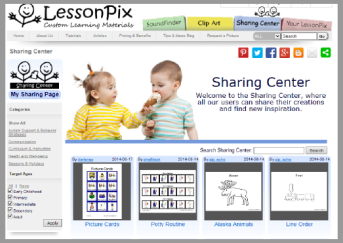 You create your materials just like always - put the symbols in the tray and use the Material Wizard to build your PDF.
When done, you now have the option to "Share" your material and make it public: you'll be asked for a category, target ages and a description so that people can find it.
You can then post the material's page with a big preview image to your blog and social media.
Everyone can read your description, see the picture and download the PDF - non-members will simply see a watermark inviting them to join.
Note: To address privacy concerns as well as copyright issues, you cannot publish materials that use images you've uploaded at this time.
Stop Re-Inventing the Wheel!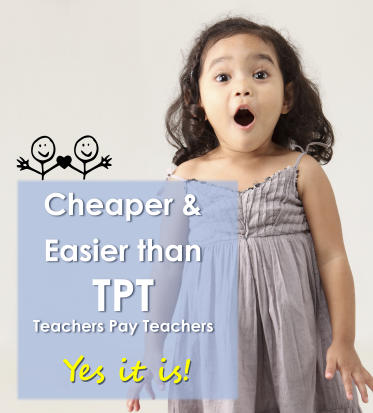 Not sure about this sharing stuff? Check it out! Before you create that Visual Schedule for Brushing Teeth, make a quick Sharing Center Search! There are thousands of LessonPix users, and they've made hundreds of thousands of materials: why waste that time re-inventing the wheel!
LessonPix Members can download any shared material with no watermarks. Or, they can load their tray with the same symbols and titles to use the shared material as a starting point! It's a great source of inspiration and a great way to save some time.
Thousands of Materials and We're Just Getting Started!
The Sharing Center launched with many thanks to the great SLPs and teachers who've helped us kick-start the collection, but it's growing fast! Here are some ideas of what you can find, ready-to-use, in the Sharing Center....



If you have any problems with the Sharing Center, or if you just just got a great idea, please Contact Us and let us know! We've already gotten some great ideas including "Favorites", popularity ranking and more. Keep them coming!