Playground Communication Signs
Say YES! to accessible communication modalities: words, gestures, signs, and visuals!
More modalities = more opportunities for communication.
Playground communication boards are an effective way to allow children of all abilities to communicate and promote public awareness of Augmentative and Alternative Communication (AAC). AAC is both Augmentative (supporting) and Alternative Communciation.
LessonPix is happy to offer your accessible communication boards for playgrounds.
The LessonPix wizard generates a pdf file that is scalable to any size, so the symbols will look clear. We recommend using picture cards or communication board template. You can have the board printed at many printing companies such as Staples or FastSigns on different materials (depending on budget and needs).
We just ask the following:
At least one person from the school be licensed.
Please use LessonPix images only (No images from the PRC Unity Symbols folder unless you reach out to them and gain permission).
The board must include a "shared with permission" image and the height needs to be at least 1/2 inch.
To get started, just e-mail us at support@lessonpix.com and we will send you the "shared with permission" image. If you have difficulty placing the permission logo on the file, let us know; we will be happy to help you customize.
And... we would LOVE to see a photo when it is completed! Check out just a few LessonPix Playground Signs in the community.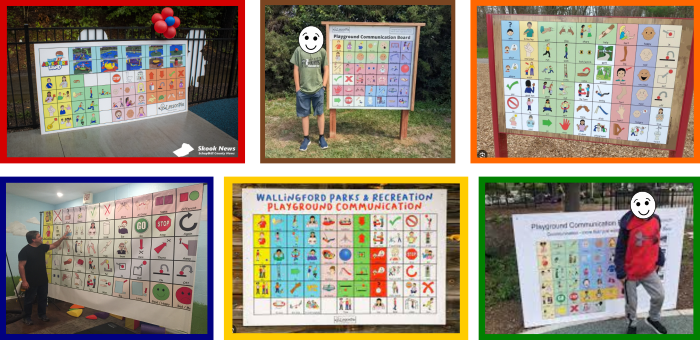 Thanks for using LessonPix and have a great day!